About Kaj O'Mara, CCM, CBM
Published:
October 4th, 2023
Hello! My name is Kaj O'Mara, and much like other meteorologists, there is no set path as to how we got where we are. Here's mine!
I used to be very afraid of storms growing up in Iowa City, Iowa. Facing my fear in the lightning-filled sky in our living room, looking out the bay window, I finally got over it and started an obsession with storms and clouds. Fast forward many years, and I wound up at Iowa State University graduating with my Bachelor's in Meteorology in May of 2007.
Television and Broadcast was my path for many years. I got my start during winter break (still officially a college student) in 2006 in Mankato, MN where I freelanced for 6 days, getting paid a $500 handwritten check from the general manager of the station, who greatly resembled the old man from the movie "Up". Before I knew it, I spent part of it on a suit from JC Penney, got some food to live off of, filled up my '99 Ford Ranger with gas, left my last $40 for my friend whose apartment I lived in during the freelance and headed home for Christmas time. I used that experience to apply for a position at KCRG-TV in Cedar Rapids, IA for a weekend meteorologist position, where I had interned for two years. I got that spot, moved up to weekday mornings and held that position for 13.5 years. I spent a total of a little over 16 years in the broadcast industry, all at that same station. The morning show I was on never dropped below a number one rating during my entire tenure.
Backing up slightly, in 2020, our home was impacted by a derecho. We had damage. This damage throughout the city showed a widespread need for ethical weather data. Watching this unfold, I wondered how consulting might work out for me. After all, I got asked about the weather literally every day. So, I earned my Certified Consulting Meteorologist certification from the AMS in August of 2021 and started my own small business. I maintained and ran this for a few years alongside my TV career.
In February, I had a chance to go full-time with J.S. Held LLC as a Senior Meteorology Consultant with work spanning from forensics to presentations, to risk assessments, to forecast briefings and I'm sure more. So, you are saying for the first time in 13.5 years, I don't have to get up at 2am anymore? Or have body aches anymore? And, be healthier and more coherent? Oh, and get a raise, too?! Yes! After full support from my family and closest friends, I walked away from television and started down the consulting road in April of 2023.
I enjoy all aspects of weather, especially clouds and particularly enjoy networking with others.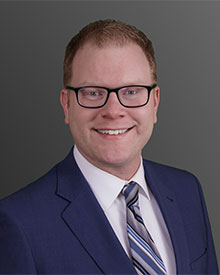 Kaj O'Mara, CCM, CBM