Pam Knox Selected as the Henry T. Harrison Award Winner
By Randy Bass, CCM - Bass Weather Services, LLC
Published: September 20th, 2023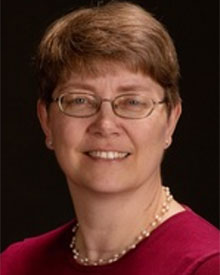 Our own ACM member Pam Knox has been selected as the Henry T. Harrison Award winner for Outstanding Contributions by a Consulting Meteorologist for 2023. Pam has made significant contributions to the American Meteorological Society (AMS) and the Certified Consulting Meteorologist (CCM) community. She has served on the AMS Board on Applied Climatology and the Board of Certified Consulting Meteorologists (BCCM).
She led the BCCM as Chair during one of its most turbulent times in history. COVID hit soon after she took over as Chair, which significantly impacted how the board administered CCM exams for prospective applicants. Pam oversaw the restructuring of oral exams to make them virtual instead of in- person, ensuring safeguards were in place so that applicants did not get an unfair advantage over those taking the exam in person while simultaneously giving applicants the full oral exam experience. Furthermore, she made sure the reviewers were also comfortable with the new paradigm. Her efforts now allow the applicant to take the exam at a time more convenient to them, speeds up the entire CCM application process, and even saves on AMS travel expenses because board members no longer have to travel to the AMS Annual Meeting to administer the tests. The entire CCM process is better and stronger because of Pam's efforts.
Beyond AMS, Ms. Knox has a multitude of accomplishments and accolades since becoming a CCM. Pam currently serves on the National Climate Assessment as a chapter author for the Southeast U.S. Looking to give back to the CCM community, she also recently joined the ACM's Awards and Recognition Committee. In addition, she has won multiple awards at the University of Georgia for her work with agricultural interests through extension, including the Walter B. Hill Award and the D.W. Brooks Award for Excellence in Service through Extension.
Pam works full time for the University of Georgia as an agricultural climatologist, for which she has a long, distinguished career in her own right. But Ms. Knox also works as a consulting meteorologist outside of her university position. Pam's clients have ranged from major corporations to law firms in the state of Georgia, and all are impressed with the high level of detail, care, and expertise she gives to each case.
Finally, Pam's passion goes beyond meteorology, as she is deeply involved in many different activities within her community. In the Athens, GA area, she holds or has held multiple offices in church, campus ministry, and community groups, including the Athens Tree Council. She was even the treasurer for her husband's successful campaign for election to the Clarke County (GA) Board of Education. And if she isn't busy enough, she still finds time to manage an award-winning blog on climate in Georgia and the Southeast, of which she's posted on over 6,000 times!