New York Certified Consulting Meteorologists Discuss Historic November 2022 Lake-Effect Snowfall Event
Published: November 28, 2022
On November 19 and 20, 2022, record snowfall fell across portions of northern and western New York, largely due to lake-effect snow bands from Lake Erie and Lake Ontario – a common occurrence in the area. However, this event set a daily-record snowfall in Buffalo, New York, and will certainly be considered historic.
According to Dr. Alicia Wasula, CCM, President of STM Weather in Cropseyville, NY, "The longevity and persistence of the single-band off of Lake Erie is what was so impressive about the event to me."
According to Mr. Steve Roberts, CCM, President of CompuWeather in Hopewell Junction, New York, lake-effect snow events occur as a result of several factors:
"The driving mechanisms for a strong lake-effect snow event near the Great Lakes are freezing cold air passing over the relatively warm lake water with a wind that persistently blows along the length of the lake. This causes moisture from the lakes to rise, condense, and cool in the lower atmosphere forming bands of snow that align with the direction of the wind. The greater the temperature difference between the lakes and the cold air passing over them, the more potential there is for intense lake-effect snowfall. Areas in New York that experience the most lake-effect snow are areas that have the longest lake fetch to their west. This includes cities like Buffalo [on the eastern shore of Lake Erie] and Watertown [on the eastern shore of Lake Ontario] which have long bodies of water to their west. For this reason, lake-effect snow events are considered very localized events. A person driving into a lake-effect snow band may see blue skies turn into a whiteout with blizzard conditions within a couple of miles. Other areas that experience significant lake-effect snow in New York include the Tug Hill Plateau and the mountainous areas east of Lake Ontario. These areas not only have long water bodies to their west, but also experience orographic lift which is a process that can enhance the intensity of lake-effect snow."
According to preliminary data from the National Weather Service office in Buffalo, the snowfall total on November 19, 2022 of 21.5 inches is the new daily record for that date, outpacing the previous record of 7.4 inches in 2014. In all, the preliminary storm-total snowfall total in Buffalo published by the National Weather Service was 36.6 inches between November 17th and November 19th.
Based on records kept in the Buffalo area since the year 1884, 36.9 inches of snowfall during the total month of November 2022 (at the time of writing this article) places the area in solid second-place for the snowiest November on record, trailing behind November of 2000, which had 45.6 inches.
During this year's event, according to the citizen weather reporting network CoCoRaHS.org, some winter weather observers measured snow depths of over 50 inches just south of Buffalo. One observer reported in their observation comments: "INSANE amount of snow", with 46.2 inches reported in a 24-hour period. A trained weather spotter in Orchard Park, New York (home of the Buffalo Bills) measured a storm-total snowfall (not snow-depth) of 77 inches. "They [the National Weather Service] are investigating a New York State all-time 24-hour snowfall record for that Orchard Park report", according to Dr. Wasula.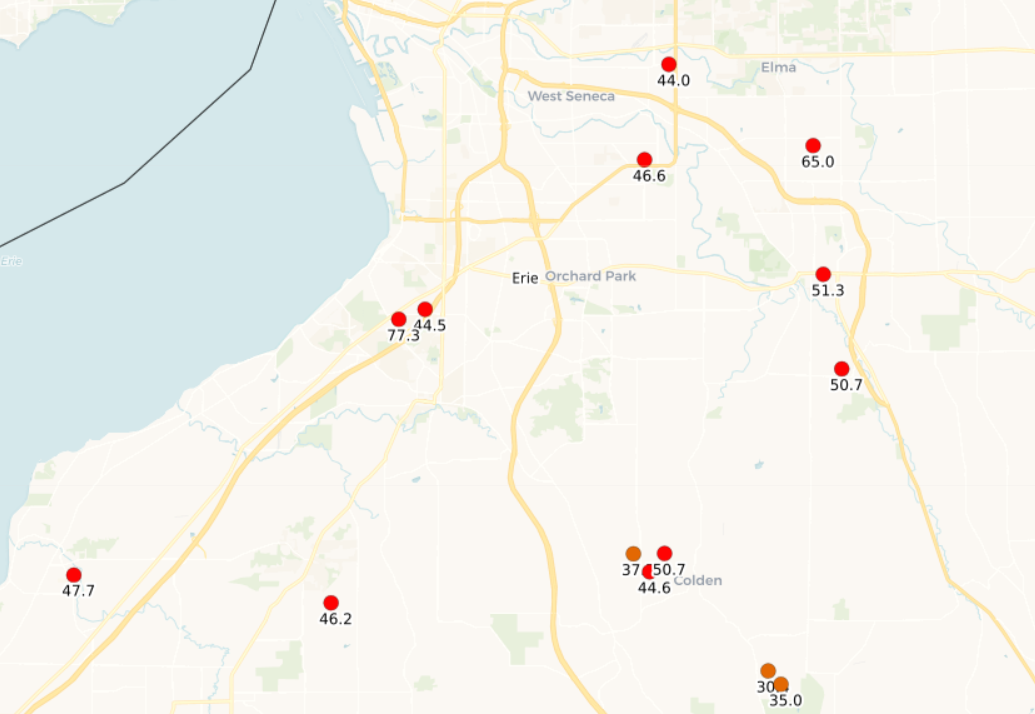 Mr. Roberts agreed, and adding a historical perspective, "There was a controversial 24-hour snowfall record in Montague, NY in 1997 that was later not recognized because of improper snow measuring during the event. The total was the same amount that fell at Orchard Park this past weekend. Hopefully the Orchard Park record stands."
According to the National Weather Service report in 1997 referenced by Mr. Roberts, "A report of 77 inches in 24 hours in Montague, New York, on January 11-12, 1997, was investigated by an ad hoc committee organized by the National Weather Service. That observation was determined to be invalid because too many measurements were made within the 24-hour period in question." For reference on how snowfall is properly measured, STM Weather has a wonderful blog article on the subject, found here: https://www.stmweather.com/blog/how-is-snowfall-measured
Along the Lake Ontario coast near Watertown, a storm-total snowfall recording of 49 inches was reported by a CoCoRaHS observer – 42 inches which fell in approximately a 24-hour period. Dr. Wasula stated, "[This event] was also impressive, [and] brought greater than 60 inches of snow east of Watertown on the Tug Hill Plateau in New York - that area is well used by snowmobilers, and they are doubtless very happy."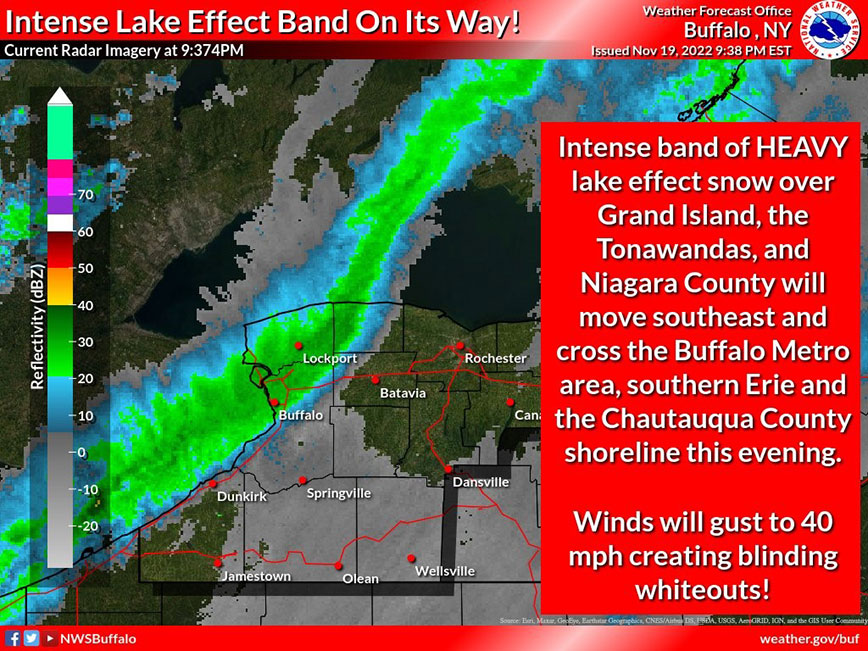 Mr. Howard Altschule, CCM and president of Forensic Weather Consultants in Guilderland, New York, commented, "The great and likely record-breaking lake-effect snow event of 2022 was an incredible event to watch unfold as a meteorologist."
The Association of Certified Meteorologists (ACM) has several Certified Consulting Meteorologists (CCMs) based in New York, including Dr. Alicia Wasula, Mr. Steve Roberts, Mr. James Bria, Mr. Howard Altschule, and Mr. Gary Graeff.
Mr. Altschule continued, "Because of the severity of this event there were likely numerous weather-related incidents or accidents that occurred. Whether they are slip and fall on snow and ice incidents, motor vehicle accidents, or other weather-related occurrences, these types of events are great examples why we as Certified Consulting Meteorologists play an important role in determining what actually occurred at the incident location itself and when. In these lake-effect snow events, the weather conditions change dramatically over short distances, so attorneys and insurance companies that only rely on the [quality-controlled local climatological weather data] from Buffalo-Niagara International Airport may not be getting an accurate accounting of what occurred at the location of the incident. This is one of many examples how experienced Certified Consulting Meteorologists using the right tools - like Doppler radar imagery, [NOAA] Public Information Statements, New York State Mesonet data, and other information - can help make or break a case."