Catoosa, OK F4 Tornado
Published: June 20th, 2023
Like many evenings during severe storm season in northeastern Oklahoma, Saturday, April 24, 1993, was warm and breezy, with southerly winds pumping moisture and instability from the Gulf of Mexico into the Great Plains. A cold front perched just north of the area, with surface low pressure centered over the western part of the state, trailing a dryline down into north-central Texas. Aloft, a mid-level jet was punching across the area, and cloud-cover had recently broken, allowing the strong spring sun to warm the surface. I didn't know it at the time, but all the ingredients were in place for widespread severe thunderstorms.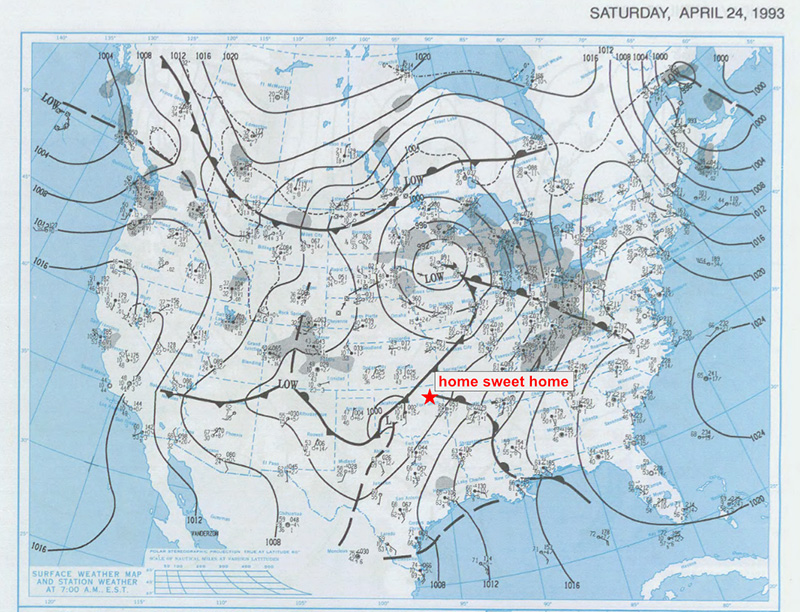 What I did know was that the sun was out, my belly was pleasantly full from an early dinner, and my little brother and I had successfully pestered our parents into playing a game of "family baseball" in the park near our house in Tulsa, OK. ("Family baseball," for those who are curious, is a version of the game played with just 4 people and the sort of non-destructive materials that prevent broken windows and noses.) The park perched atop a high spot in the city, with a relatively unencumbered view to the west, north, and east.
I've been fascinated by the weather as far back as I can remember, and on this evening, I was far more interested in the supercell thunderstorms boiling into the sky than I was in my turn at bat. The base of the storms were like black ink spilled on a glass table – perfectly flat and dark as night. I remember pointing to a lowering beneath the base of one of the storms and saying to my parents, "You see that? It's a wall cloud. A tornado could come from that."
My parents - enthusiastic supporters of their budding meteorologist but unconvinced of an elementary school kid's severe weather forecasting prowess – said, "Oh, that's interesting," and returned to the game. Less than five minutes later, the tornado sirens were wailing and my parents were dragging me and my brother back to the house and the basement "just to be safe."
The F4 tornado spawned by that storm was the deadliest in local history, killing 10 people and injuring more than 50 in eastern Tulsa and Catoosa. The National Guard was called out to help with cleanup and rescue in an area described as a "war zone" (Tornado Leaves Catoosa Looking Like a War Zone).
This April marked the 30-year anniversary of "The Catoosa Tornado," and what I mark as one of the key events that both taught me the awesome (and sometimes awful) power of nature and that set me on the path to becoming a professional meteorologist.