Atlantic States Weather, Inc. ACM Article
Published:
May 12, 2020
Retired ACM member and Certified Consulting Meteorologist (CCM) Steve Harned, earned his CCM credentials in 2004 and opened Atlantic States Weather, a meteorological consulting firm, after a successful career in the National Weather Service.
Over the next ten years, Atlantic States Weather grew a satisfied and growing client base across the country. By 2015, Steve was approaching 70, and while he was still enjoying the challenge of forensic meteorology, he realized he was not really looking forward being in his mid-70s and being deposed by a young 30-something associate attorney.
In 2015, TC Moore was vice president of the Central North Carolina Chapter of the AMS (CNCC AMS) in Raleigh, where he was responsible for lining up speakers for the monthly meetings. TC learned that Steve was living nearby in Sanford, NC, and he invited Steve to give a presentation on forensic meteorology to the Chapter. Prior to that time, TC knew little about forensic meteorology, and his interest grew as a result of Steve's presentation.
In 2018, the CNCC AMS celebrated its 50th anniversary and TC invited all past chapter presidents to attend the event, including Steve, and so TC and Steve were able to reconnect professionally. TC was working for the Department of the Air Force as a civil service employee, where he was both teleworking and driving from Raleigh to the Pentagon on a regular basis. TC realized he needed to make a change, and he asked Steve if he would meet with him to discuss the forensics side of the enterprise. At this point, TC was just looking for advice, with no thought towards owning and running a consulting business.
Steve realized this was a possible opportunity to have TC purchase the business. However, Steve had to do a little homework to learn how to determine the value of Atlantic States Weather. He began asking other CCMs for their advice in this area. Steve also talked at length with Atlantic States Weather's CPA on this topic. From these sources, he learned that the business could be valued using a multiplying factor of between 2 and 4 times the most recent average gross income over a length of time (e.g., 1-5 years).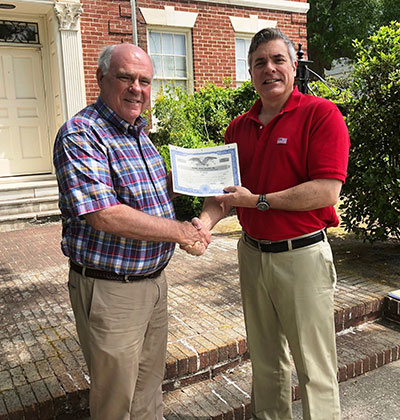 Steve and TC met for lunch in October 2018. Steve surprised TC by asking if he wanted to buy Atlantic States Weather. After much consideration and discussion, TC decided to purchase Atlantic States Weather. He and Steve worked out arrangements on the sale of the business throughout the fall and winter of 2018.
Once negotiations were agreed on, they signed a mutually drafted letter of intent (LOI) in December 2018, setting a purchase date of May 1, 2019.  During the transition to the closing of the sale, Steve provided TC with extensive training to bring him up to speed on how to approach taskings in the forensics arena. This training was accomplished during face-to-face meetings, as well as virtually by computer.  Steve also took TC to the Windstorm Trade Show in Orlando in January 2019, where he introduced TC to some of Atlantic States Weather's most important clients.  As they got closer to May 1, both TC and Steve secured attorneys to ensure that nothing was overlooked with respect to the formal business purchase agreement.
Since the sale, TC has continued the strong relationship and work for clients, while also earning his CCM (#748) and becoming a Consultant Member of ACM.  Meanwhile, Steve continues to be involved with the business, serving as an advisor to TC with continued mentorship and guidance, while occasionally working on forensic meteorological consulting cases and spending his extra time on the golf course and working around the house.
If you want to learn more about Steve Harned and TC Moore and all members of ACM, use this link:
Find an Expert Meteorologist