ACM Member Elizabeth Austin is 2021 Recipient of The Henry T. Harrison Award for Outstanding Contributions by a Consulting Meteorologist
Published:
July 28, 2020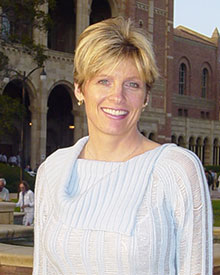 On Saturday, July 25, 2020, The American Meteorological Society announced recipients for 2021 awards. The Association of Certified Meteorologists is proud to share that Consulting Member Elizabeth Austin has been awarded The Henry T. Harrison Award for Outstanding Contributions by a Consulting Meteorologist. During her career, Dr. Austin has an extensive record of serving the meteorological profession, clients, and society at a highly professional level.
Dr. Austin is Founder and CEO of WeatherExtreme Ltd. Since 1994, Dr. Austin has led research and consulting projects for clients including as an expert witness where she is a qualified expert in Federal Court and numerous state courts. Her professional accomplishments also include teaching at Sierra Nevada College and the University of Nevada, Reno.
Past professional recognition includes being elected a Fellow of the American Meteorological Society in July 2017, Fulbright Senior Specialist May 2003, invited speaker United Nations Development Program in December 2001, and earning the Certified Consulting Meteorologist designation by the American Meteorological Society.
Dr. Austin also serves on the board of directors for The Perlan Project, the Association of Certified Meteorologists and the American Meteorological Society Committee on Environmental Stewardship.
The Henry T. Harrison Award for Outstanding Contributions by a Consulting Meteorologist was established in 2011 to recognize a consulting meteorologist for outstanding contributions to the profession, clients, and society. Nominees should demonstrate expertise in weather or climate and their applications, adherence to ethical behavior, and a high level of service to clients and/or the weather and climate enterprise. Nominations are considered by the Board of Certified Consulting Meteorologists, which makes recommendations for final approval by the AMS Council.
Source: https://www.ametsoc.org/index.cfm/ams/about-ams/ams-awards-honors/2021-awards-and-honors-recipients/.