ACM Attends Windstorm 2019
Published: May 1, 2019
The Association of Certified Meteorologists (ACM) attended Windstorm 2019 in January 2019. Windstorm is an annual three-day conference for the property insurance claims industry. In late January 2019, Windstorm held their annual convention at the Walt Disney World Dolphin Resort in Buena Vista, Florida. ACM attended the convention as an exhibitor representing all membership.
ACM was able to interact with lawyers and insurance companies litigating property damage claims from recent hurricanes in the southeast. Water and wind damage are significant insurance claim issues in hurricane damaged areas of Florida, North Carolina, Puerto Rico and Texas. ACM consists of experienced weather experts that can expedite and confirm water and wind damage at any point of a claim process. This benefits all parties.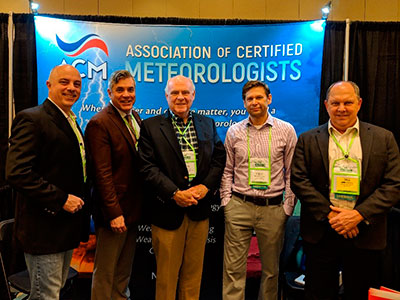 Windstorm 2019 was also an opportunity for member to interact with each other and fellow meteorologists and friends. Retired National Hurricane Center Director Max Mayfield stopped by the ACM booth to greet friends Steve Harned and Mike Mogil. ACM members Howard Altschule, Forensic Weather Consultants, and Steve Roberts, CompuWeather, also attended the conference representing their companies.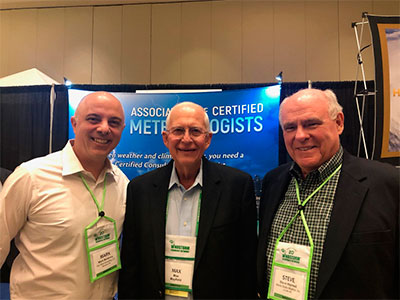 If you want to learn more about ACM and our experts, use this link:
Find an Expert Meteorologist
( Click Images for Larger View )